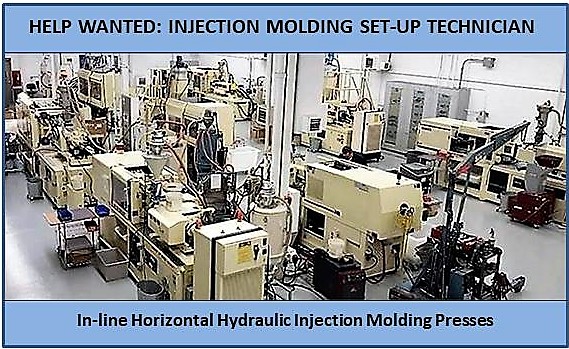 INJECTION MOLDING SET-UP TECHNICIAN
Indak Manufacturing a leading manufacturer of switches, controls, and electronic assemblies located in Chicagoland's Northern suburbs is seeking an EXPERIENCED Set-Up Technician for our Molding Facility. The facility uses In-line Horizontal Hydraulic Injection Molding Presses.
Job Requirements
Perform the set up, start up, process maintenance, and process correction of injection molding jobs.
Communicate production equipment status to Maintenance.
Communicate to Material Handlers and Machine Operators as needed.
Operate forklift trucks as needed.
Perform general duties as instructed by Shift Supervisor.
4-day work week, Monday – Thursday, 10-hour shifts. Flexible work hours possible (afternoons preferred).
Competitive salary and benefits package including 401(k).
Please send resumes to: rmann@technyplastics.com No phone calls, please.
---
A LITTLE ABOUT US
Indak Manufacturing Corporation is an American company headquartered in Illinois with over a seven decade history of OEM design engineering and manufacturing excellence.
We produce a wide range of assemblies. Specialties include electronics for the automotive and outdoor power Industries including high current switches, resistors, sensors, HVAC controls and LED lighting.
Our customers include many of the major automotive, truck, outdoor power equipment and pleasure craft manufacturers.
COMPANY BENEFITS
Clean, bright, climate controlled work environment.

Company health Insurance through leading providers available for employees, spouses, and dependents includes health, dental, vision, life, short term, and long term disability options.

Vacations range from 1 week per year, available after 3 months on the payroll, to 2, 3, and 4 weeks per year based on accumulated seniority.

Company 401(k) plan with quarterly company contributions.

Annual bonuses for all employees.

Incentive system for production assemblers allowing increased earnings.

Open Door Policy – Easy access to management.
---